Skcin have worked with quality manufacturer, Deb (now part of SC Johnson Professional) for the last seven years, providing primary schools and pre-schools across the UK with quality SPF 50 sunscreen, dispensers and sun stations with UV dial and mirror. These products offer the perfect solution to schools who are faced with managing hundreds of sunscreen bottles, lack of parental support and often inadequate protection. They have been a huge success with more and more schools opting to tackle the issue of sun protection independently to ensure every child has access, whenever it is required or as a back-up solution for children who may have forgotten, lost or run out of their own sunscreen.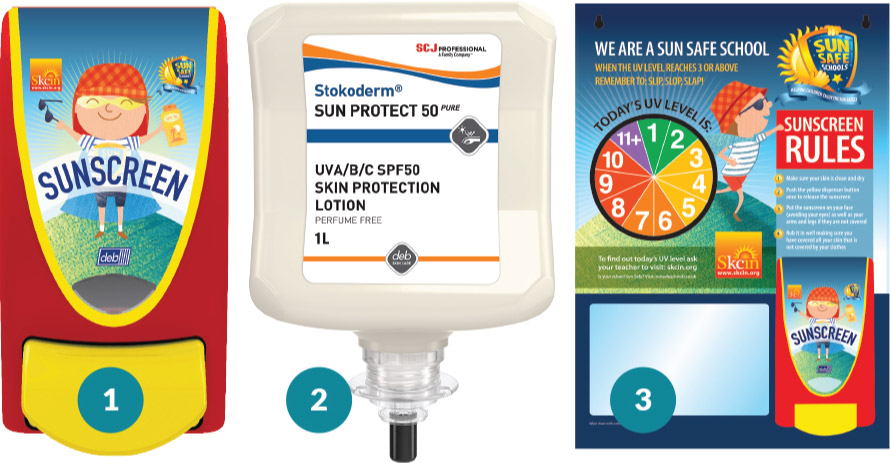 1) Children's UV PROTECT 1L Dispenser. For use with Stokoderm Sun PROTECT 1L cartridges
2) Stokoderm® Sun PROTECT SPF 50, PURE UV Skin Protection Lotion
Sun protection factor of 50 (SPF 50) | Conforms to European Recommendations for UVA protection
Perfume free, dye free & water-resistant | Suitable for use on children aged 6 months+
1000 shots per 1L cartridge | Hygienic and sealed to prevent ingress of air
3) Children's UV Skin Safety Centre Including:
Sunscreen dispenser, UV index wheel, mirror and instructions for how & when to apply sunscreen.

For price information and to find your nearest stockist
please contact SC Johnson Professional Customer Services:
Tel: 01773 855330 | Email: talktous@scj.com