Put the fun into fundraising and dedicate a day to sun safety!
Dedicate a day to Sun Safety by organising a Sun Safe Schools fundraising day for the whole school in support of Skcin and skin cancer awareness! This could coincide with completing steps 3 and/or 4 of your accreditation (delivering your assembly and individual class lessons and activities) and gaining your Sun Safe Schools certificate of accreditation!
Everyone enjoys a dress-up day! Simply ask the children and staff to dress for a beach day in appropriate Sun Safe clothing (remembering their Five S's of Sun Safety) and donate £1 to help support the work of Skcin - a charity dedicated to saving lives through the prevention and early detection of the UK's most common and fastest rising cancer.
The younger children will love the opportunity to dress as Sun Safe Superheroes like our mascot 'George the Sun Safe Superstar' and it's a great way to reinforce key Sun Safe messaging across the whole school and the wider school community!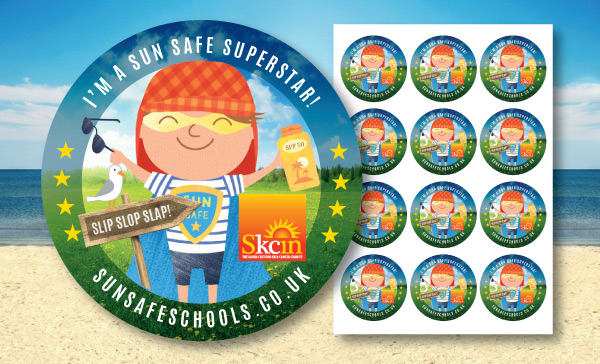 Schools that Fundraise Receive:
Every school that takes part in raising much needed funds for the charity will receive Sun Safe Superstar reward stickers for all the children and a certificate of appreciation from the charity to proudly display alongside your certificate of accreditation.
Please inform us if are planning your 'Sun Safe Schools' day by emailing: christina.driver@skcin.org and we will send out your Sun Safe Superstar Stickers ready for your big day and provide you with any support we can!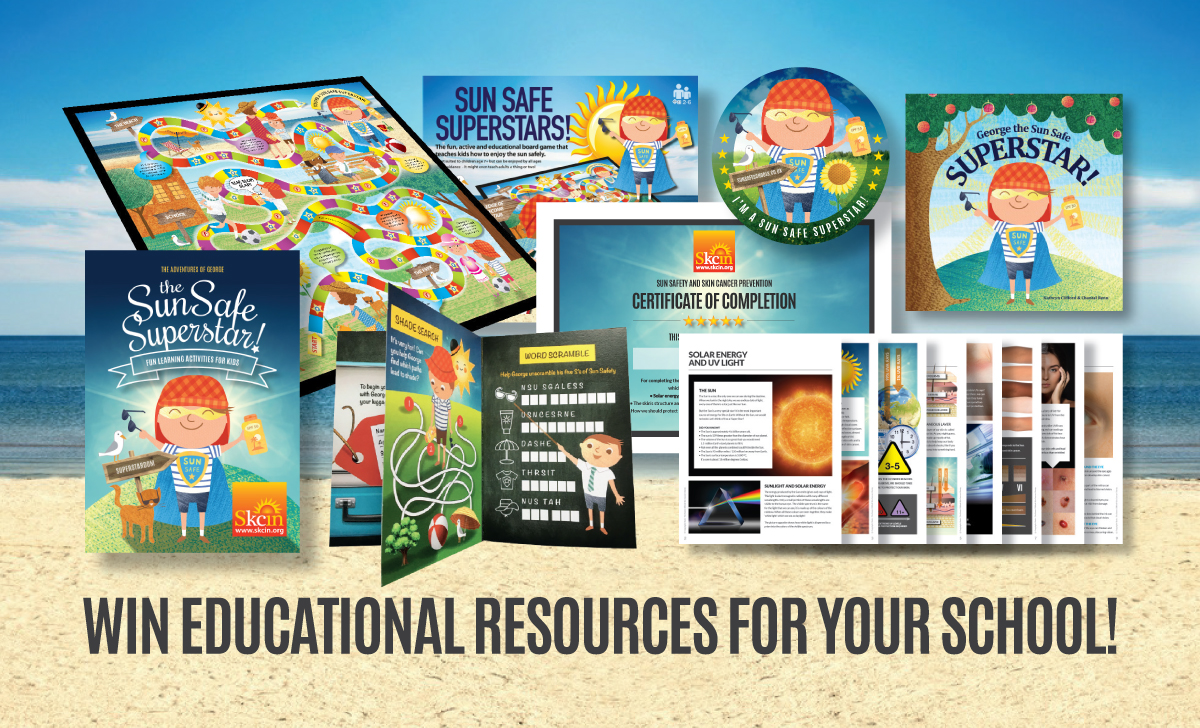 An Opportunity to Win Resources
You might want to raise further funds to support our cause by organising additional fundraising on the day! We have provided you with some ideas below. Our biggest fundraising school each year will receive a whole host of educational resources courtesy of Skcin, including: A Sun Safe Superstars board game; 2 x George the Sun Safe Superstar books for your school library; 200 x A6 Activity booklets (KS1); 240 x Superstar reward stickers; 40 x Year 6 Sun Safety graduation printed workbooks and certificates.
Fundraising Ideas for Your Sun Safe Day
1) Get the children and staff to dress for a day at the beach - making sure they remember their Five S's of Sun Safety! The younger children could dress as Sun Safe Superstars / Superheroes, like our mascot George! Simply ask for a donation of £1 from parents to support the work of Skcin.
2) On the day, get the children to each run a 'mile for melanoma' or, 'skip a mile for skin cancer' using the sponsorship forms provided below to drum up support from family and friends.
3) Ask the Friends of School Community and/or staff to get involved to sell ice-creams and iced lollies to the children after their run or at the end of the school day!
4) Make an after-school event for parents to attend, pick up sun safety information, see the children's Sun Safety work (perhaps using this as an opportunity to show off your accreditation) and perhaps organise a tombola, raffle, cake stall or similar.
To help you get plans underway, we have provided you with a fundraiser letter to send home to parents, that you can adjust accordingly to suit your plans and requirements in addition to a Skcin sponsorship form for use if required.
Every penny counts and we would be so grateful of your support and any contribution your school can make. All funds raised will be used by Skcin to continue our pioneering work in educational intervention across key at risk and influential audiences nationally.
For further information about Skcin and our work, please visit: skcin.org
We thank you in anticipation of your valued support.
Together, we can make a difference and save lives.